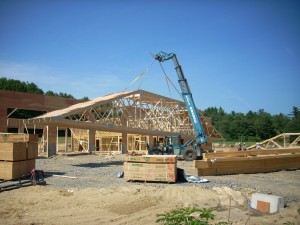 Trusses being installed at Brentwood Fire Station
Summit Engineering recently performed construction observation on the installation of 90-foot clear span trusses at the new Brentwood Fire Station. The new fire station was designed by the team of Summit Engineering, Ricci Construction and TRH Architects. In addition to the building design, Summit Engineering prepared the erection plan for the unwieldy trusses.
The plan called for construction of ganged trusses at the ground level. This allowed for the work crew to install roof sheathing and all the necessary bracing at a comfortable working elevation. Once braced and sheathed, the trusses were lifted in groups, allowing for limited time working at height for the construction crew.
Trusses at this length are very unstable until all the bracing is installed. Typically, trusses are erected one at a time, bracing the new truss back to the first truss. Bracing is slowly removed as sheathing is added. This short period of bracing removal is avoided by sheathing the trusses prior to erection.
You can learn more about this project and other projects by contacting Summit Engineering at (603) 319-1817.