The U.S. Green Building Council in 2011 released a list ranking each state by the amount of green building and design projects per capita. Near the top of that list of states with LEED-certified commercial and institutional green buildings per capita was New Hampshire — coming in fourth with 4.49-square feet of LEED certified space per person.
While it has since fallen out of the top 10, according to the latest rankings, New Hampshire remains a leader in LEED projects — with hundreds of projects that feature elements of sustainable building design.
In order to be recognized as either LEED certified or registered, a project must meet standards set within the green building certification program — an effort that recognizes best-in-class building strategies and practices. This certification considers a wide range of items:
site design
water conservation
energy use
building materials
indoor air quality
In order to be recognized as a LEED building project, these structures must pursue and satisfy a variety of credits in order to earn points. The number of points a project earns determines its level of LEED certification — such as certified, silver, gold and platinum. Click here to get a more in depth explanation of LEED certification.
The types of LEED projects in NH range from brand new state-of-the-art Starbucks coffee shops to green buildings used as learning institutions, banks and health care facilities.
Here's a look at the top 9 LEED projects in NH:
9. Bedford Falls Assisted Living facility— Bedford, N.H.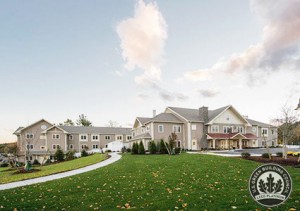 This assisted living facility designed by Bechtel Frank Erickson Architects earned a Platinum certification in 2012 thanks to its numerous green building and design elements. Its many green attributes involve water and energy conservation installations, as well as other healthy features such as carpets with low chemical emissions.
8. Dartmouth College Life Science Center — Hanover, N.H.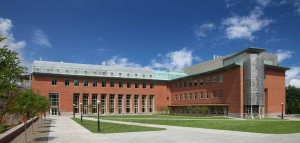 The Class of 1978 Life Sciences Center at Dartmouth College designed by Bohlin Cywinski Jackson Architects went on to receive LEED Platinum certification in 2012. In addition to being a "visually striking building," this building features a variety of green building and design elements; such as ultra high-performance triple glazed curtain walls, thermal doors, structural glass canopies and custom printed back-lit interior glass signage.
7. New Hampshire Institute of Art (88 Lowell St.) — Manchester, N.H.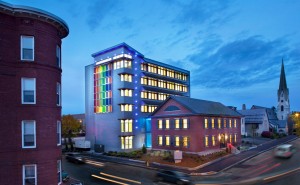 The NHIA renovated this existing two-story brick building in 2009 and was able to earn LEED Gold certification in 2014. Its various green elements designed by Dennis Mires P.A. The Architects include a rainwater recycling system and a vegetated roof.
6. University of New Hampshire Peter T. Paul College— Durham, N.H.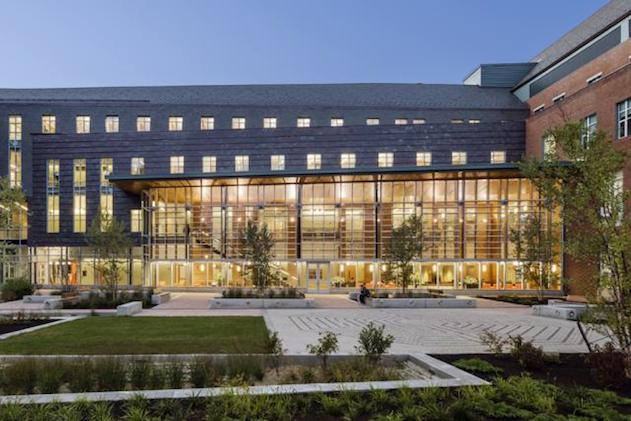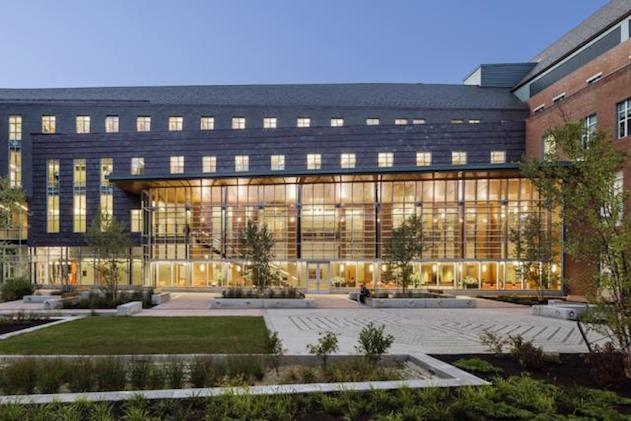 University officials unveiled this new facility in 2013 — earning LEED Gold certification in the process. The $50 million building designed by Goody Clancy features low-water usage in plumbing fixtures and landscape design.
5. Service Credit Union Headquarters — Portsmouth, N.H.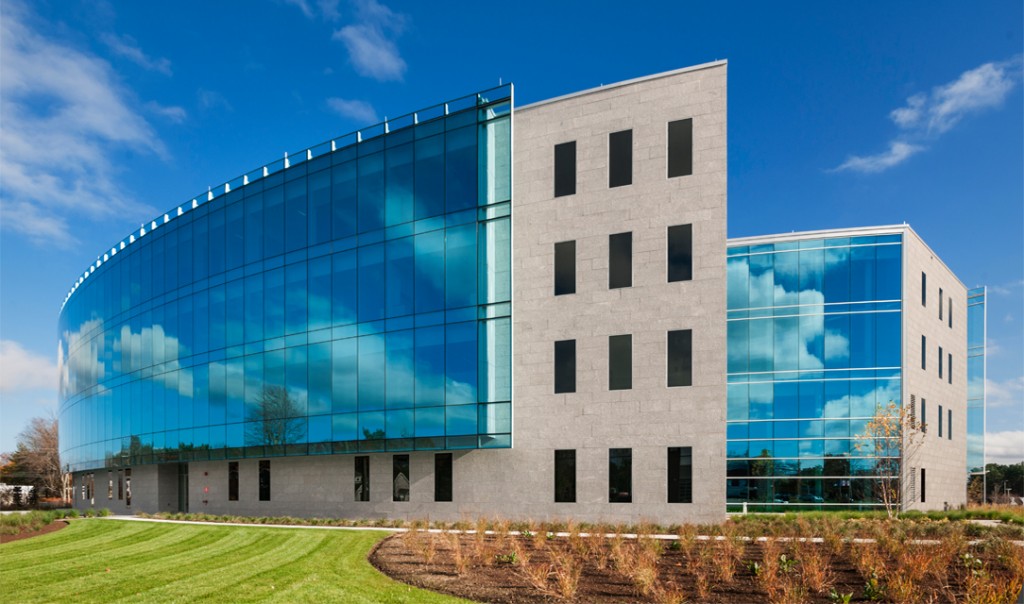 The 100,000 square foot building designed by GUND Partnership earned LEED Gold certification in 2013. The state-of-the-art facility was designed and built using strategies intended to improve performance in metrics such as energy savings, water efficiency, CO2 emissions reduction and improved indoor environmental quality.
4. Colby Sawyer College Windy Hill School — New London, N.H.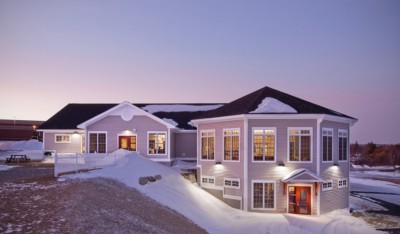 This educational building designed by Banwell Architects earned LEED Silver certification in 2012. It boasts a variety of green building and design elements related to energy and water conservation. The building was also constructed using materials that don't contain volatile organic compounds.
3. University of New Hampshire James Hall — Durham, N.H.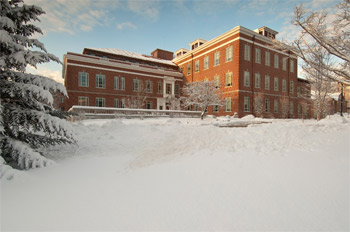 James Hall, which houses a variety of science departments, received LEED Gold certification in 2010 — making it the first LEED building at UNH.Sustainable innovation designed by EYP Architecture and Design includes a gray water system that captures rainwater from the building's roof and gutters for use in toilets and urinals; daylight harvesting, which utilizes sensors to turn off electrical fixtures when natural daylight provides adequate light; and a heat wheel recovery system, which makes the air handling unit extremely efficient.
2. Second Nature Academy Elementary — Nashua, N.H.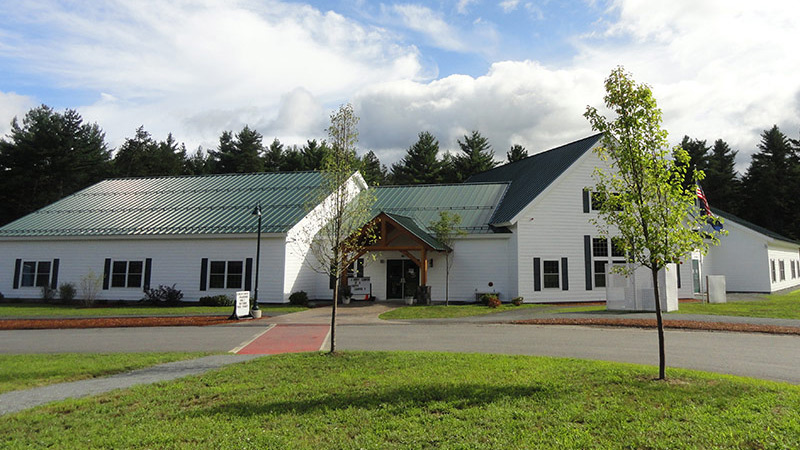 This learning institution earned Platinum certification in 2009 — making it the first LEED Platinum commercial building built in New Hampshire. The campus, which boasts several environmentally friendly green buildings, features a variety of green building and design elements. In 2010, the institution earned the Lean & Green Building Award from Business NH Magazine. The project was made possible through the collaboration of several teams, most notably The Jordan Institute, a green building consulting firm, and Green Building and Construction Group.
1. Portsmouth Public Library — Portsmouth, N.H.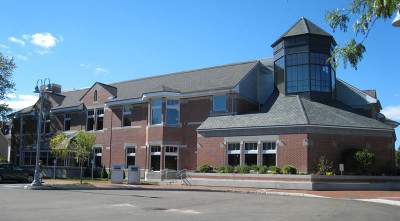 The new Portsmouth Public Library in 2007 became the first municipal building in New Hampshire to receive LEED certification. As a LEED Silver facility, the new library achieved high marks in the areas of energy conservation, recycling, materials selection, and daylight and views. This project was designed by Amsler, Mashek, MacLean.
Every day it seems a new LEED project is popping up in the Granite State. Our team at Summit Engineering PLLC has vast experience working on projects striving to attain LEED certification. In Fact, we had the first two structural engineers in the State to achieve LEED Accredited Professional status.
Contact us today about how we can help with your green building and design project