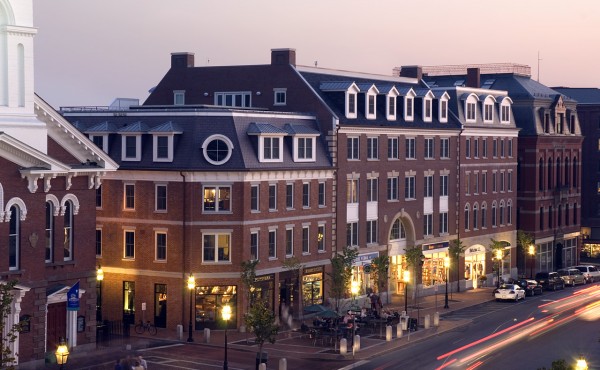 We at Summit Engineering have worked on a lot of exciting projects in New Hampshire and beyond. Many of the structures we have been involved with are featured in our online portfolio of projects.
While we may have been fortunate to leave our mark on many great projects, we do not get to work on EVERY great building project in New Hampshire. There's just too many. So, with a tip of our cap, we list what we consider to be the top five recently constructed buildings in New Hampshire that we did not work on, but admire.
1.      Manchester Police Station – Manchester, N.H.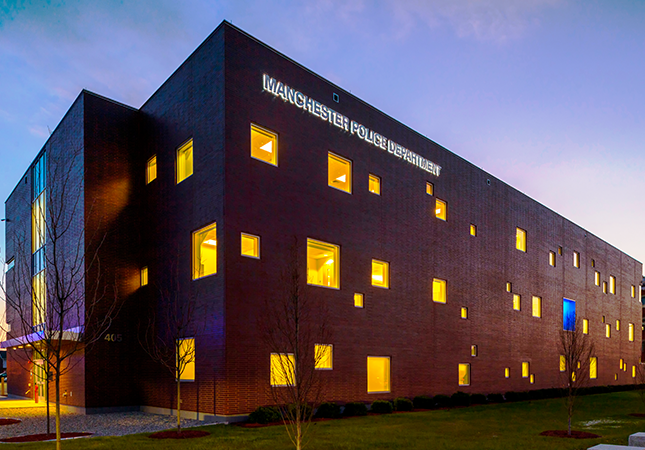 The Manchester Police Station, a brand new state-of-the-art 72,000-square foot facility, received the 2014 Honor Award from the New Hampshire Chapter of the American Institute of Architects (AIANH). It is easy to see why. The facade is truly unique and yet very simple. It also captures that rare ability to be nothing like a typical building of its style (a police station), yet very clearly indicates what it is. The 2014 AIANH jury offered the following comments on the new police station;
"This is a brilliant façade solution for both the function and context. The uniformity of a police department and the various internal functions within are unified by the façade, and the bollards compliment and strengthen it. The design skillfully considers that the police department must be open 24 hours a day, 7 days a week. The nighttime presence is exceptional. This a sensitive design for a police station."
Designed by architects at Lavallee Brensinger Architects, the new public safety building was designed for the future. It features plenty of space for storage and staff, as well as a state-of-the-art training room and meeting space.
"We thrive on challenging projects such as this which help to improve our communities with designs that are purposeful and elegant solutions that become a sense of pride for all."

-Chris Drobat, vice president of Lavallee Brensinger Architects.
We applaud Lavallee Brensinger Architects on their work and congratulate them on their award.
2.  18 Congress St. – Portsmouth, N.H.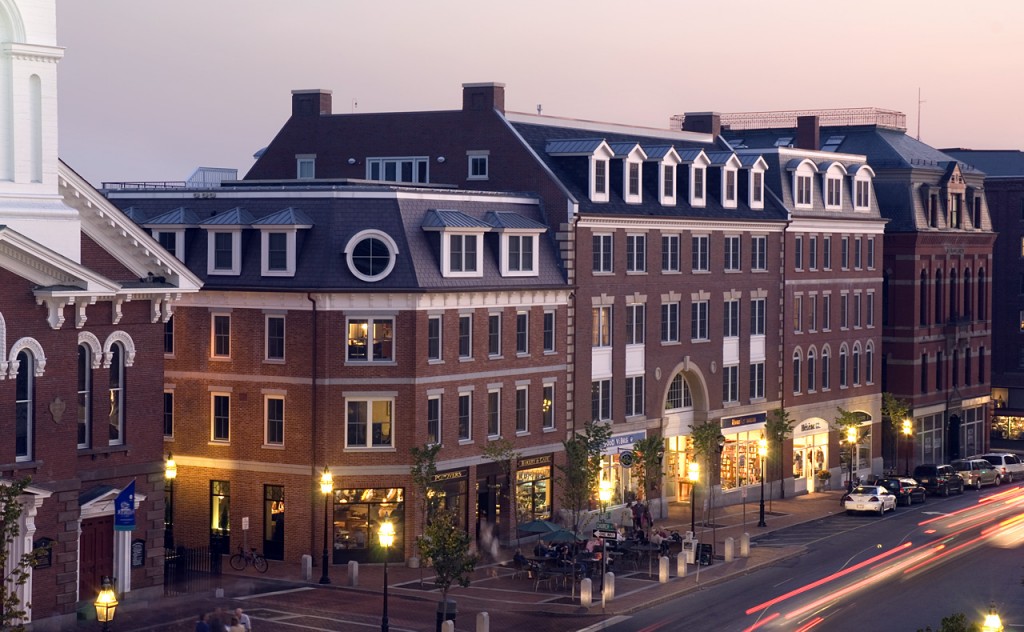 McHenry Architecture is responsible for this amazing building. Nestled in the heart of downtown Portsmouth, most would think the 65,000-square foot building has been there for ages. Guess again. Completed in 2007, this four to five story mixed-use building is a true architectural achievement. Although it is one structure, it gives the appearance of three separate buildings thanks to the obvious attention paid to scale and variety of its architectural context.
As the recipient of the 2008 AIANH Excellence in Architecture People's Choice Award, this project also exemplifies the idea of mixed use – with a perfect compliment of condominiums and retail space, not to mention on-site parking. We also appreciate the fact that this project included a redesign of the city sidewalk.
"The resulting exterior design adapts from and compliments its context with its historically appropriate scale, materials and details. The 18 Congress Street building is the only new building in downtown Portsmouth to receive an AIA Excellence in Architecture Award."

-McHenry Architecture
In a city where many are worried about the impact development is having on the historic flavor of the downtown, we believe this project stands out as a shining example of how to make something fit and stand out at the same time. There is no debate about the attractiveness of Steve McHenry's creation. It is one of the only buildings with a unanimous opinion. Perfect!
3.  Black Family Visual Arts Center at Dartmouth College – Hanover, N.H.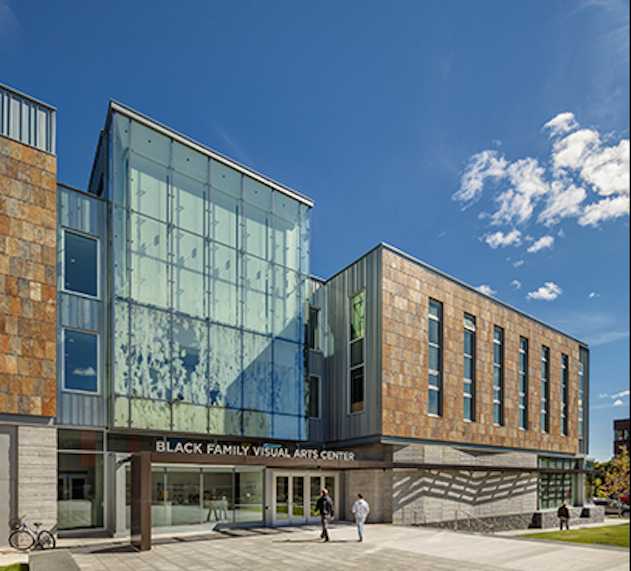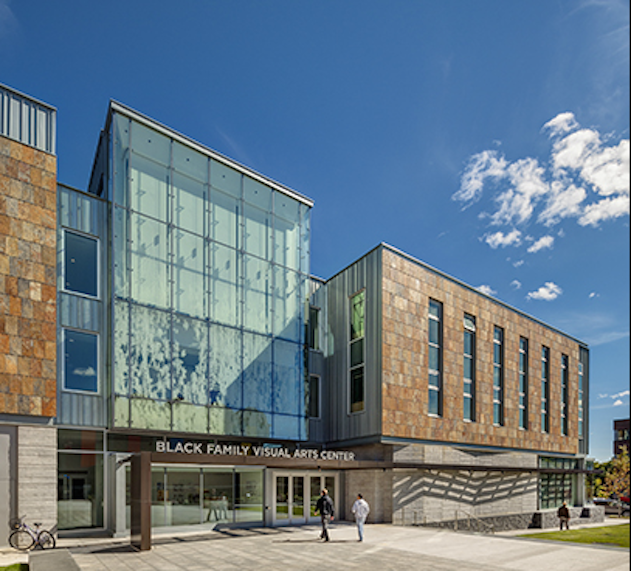 If you have ever brought your kids anywhere near the Black Family Visual Art Center at Dartmouth College than the only thing they might remember is the giant spider sculpture outside on the plaza. While this may stand out, conscientious observers will appreciate the very modern looking structure fitting perfectly in a very historic community.
Opened in 2012, the three-story space features teaching spaces and studios, as well as an Arts Forum. The center is also designed to achieve a LEED Gold rating by incorporating a wide variety of energy saving technologies, including in-floor and chilled beam radiant heating and cooling, rainwater collection and reuse and daylight harvesting and daylight sensing lighting systems.
Designed by Machado and Silvetti Associates out of Boston, MA, this 105,000-square-foot structure incorporates a blend of modern and traditional materials. The building perfectly tells the story of a New Hampshire school with a storied history, yet still on the cutting edge.
"New Hampshire, like many New England states, enjoys a litany of small and wonderfully eclectic buildings and urban spaces. Vernacular forms, delicate siding, expansive brick, pastoral meadows, and lush forest appear with great regularity providing the serene backdrop for Northeast living. We wanted to design with respect for the small scale and nuance of this New Hampshire campus' form and feeling. We also, paradoxically, wanted to provide a uniquely urban space that differentiated itself from the rest of campus. Thus we designed a series of small neighborhoods, corresponding to program, and joined them together in a large building. The arrangement of these neighborhoods creates common circulation and community space seamless with the outside. The scale of the entire building is then significant enough to command a presence on the street while framing a very distinctive outdoor urban plaza and lawn."

 – Machado and Silvetti Associates

4. 88 Lowell Street (New Hampshire Institute of Art) Manchester, N.H.
This project is yet another AIANH Honor Award winner. Completed in 2009, this innovative project was lauded by the AIANH jury for achieving an "exciting marriage of existing and new." Designed by Dennis Mires, P.A. of Manchester, N.H., was also called the "coolest looking building" by Manchester's local publication of The Hippo Press. We can see why.
This mixed-use property, which is expected to achieve LEED Gold certification, is located next to and attached to Manchester's original high school. It features a perfect execution of the Secretary of Interior Standards for Historic Preservation. We applaud Dennis Mires for not trying to mimic the beautiful older structure and instead designing something completely different. The two structures, although connected, do not compete, rather they complement each other.
5. Peter T. Paul College of Business at UNH – Durham, N.H.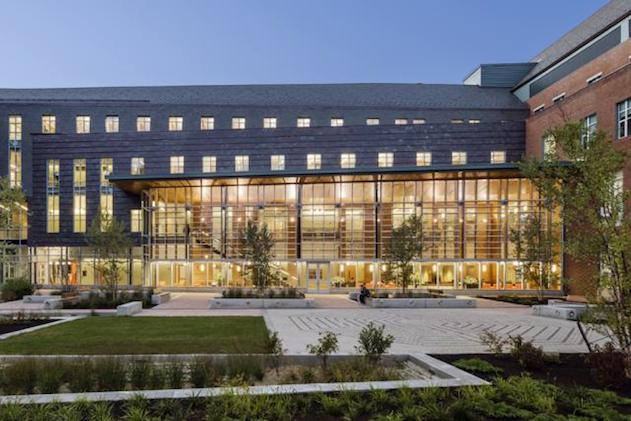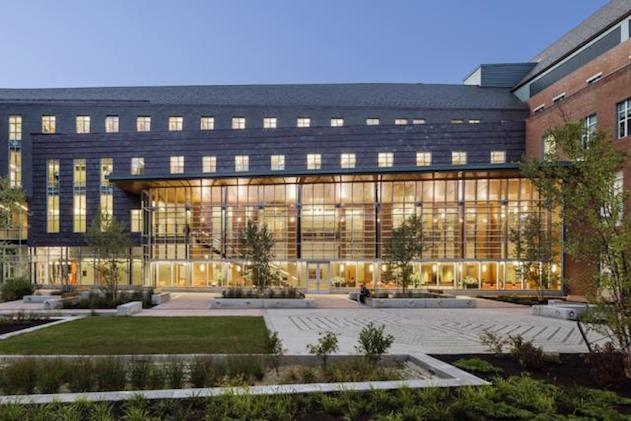 Most buildings are judged by their exterior facade. By that alone, this building is worthy of much praise. But it doesn't stop there. Step inside this 110,000-square-foot and you will see why AIANH called it 'such a welcoming space' upon presenting it with an Honor Award in 2014.
Opened in 2013, this state-of-the-art business education facility features a Great Hall that overlooks a sculpted garden courtyard that can be utilized in good weather as an outdoor classroom.
A "green" business school, this new facility is expected to achieve LEED Gold Certification thanks to its energy efficient and sustainable design. The use of natural light and modern materials by architects Goody Clancy of Boston, MA really make this a must-visit place if you're in the Durham area.
There you have it. We hope you enjoyed our view on some of the most impressive new buildings in New Hampshire. Do you have a building to add to our list? Feel free to contact us directly for more incite on how we may be able to help you tackle your next project.