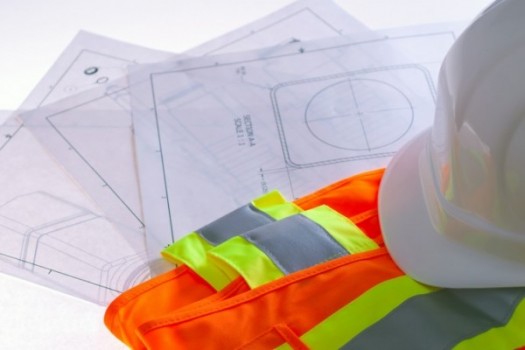 In the world of structural engineering – like many other professions – it's important to be prepared for anything and everything that comes your way. An experienced structural engineer knows this all too well. Whether it's responding to a last minute inspection request or heading to an onsite construction meeting, someone working in the structural engineering field must be ready at all times.
But simply showing up is only half the battle. More often than not structural engineering jobs require a trained engineer who not only has the know-how, but also has all the tools needed to complete the task at hand. Here are 10 things we believe every structural engineer should have in their car:
1. PPE – Personal Protective Equipment (Boots, Hard Hat, Safety Glasses, Ear Plugs, and Safety Vest)
There is not much to say here that is not abundantly obvious. Having all of this equipment is standard on construction sites. Make yourself visible and make yourself safe. Construction sites can be dangerous places. Engineers are used to following codes. Follow OSHA rules and set a good example.
2. Gloves
Helpful in the cold weather, they are also good to keep your hands clean and safe. You may be asked to go into old basements that may have had oil spills, sewage backups, mold, or other nasty items.
3. Flashlight/Head Lamp
You can't do much in the dark. Smartphone flashlight apps speed through your battery life very quickly. We prefer the headlamp. It's lightweight, always pointed in the direction you need it, and you can put it in your pocket when you're done.
4. Tape Measure
We use this one on virtually every site visit we make. Good for checking rebar size and spacing. Measuring floor joist depths or spans. Get a good one that can cantilever a long distance without someone holding the other end. You'll be by yourself more than you think.
5. Cameras and Photo Reference Card
Take more photos than you think you will need. Data storage is cheap. Driving back out to a jobsite for a missed photo is far more expensive.
Tips: Start with overall photos. You might wish you had taken a photo of something specific on the outside of a building. Overall photos might give you the opportunity to zoom in on that item after the fact.
Use a reference card to establish scale. You will open some photos back in your office only to find that you cannot tell if you're looking at a 1" wide or ¼" wide crack. A photo reference card, ruler, or even a well-known object (pencil) will help establish scale.
You don't have to be Ansel Adams, but consider taking a project-marketing photo for your company. Is the fall foliage in bloom behind the building? Is the sunlight hitting just right?
6. Notepad and Pencil
Pencils work in any weather. Take good notes. Document people that are present at your visit, the type of work going on, the time you arrived and the time you left.
7. Small Sledgehammer
A small sledgehammer is great for checking the quality of a lot of materials. A light tap against concrete or masonry can tell you if it is sound material or if there is a void lurking beneath. You will not need it on every job site. Mostly, leave it in the car. However, they are invaluable when you do need them.
8. Probe (screwdriver/steel rod/rebar/Leatherman)
We use a screwdriver to check the soundness of wet wood, quality of mortar joints, the depth of holes, etc.
9. Collapsible Ladder
You will not need one on every jobsite. One for the office is fine. These lightweight tools allow for very easy access to areas difficult to observe. Follow OSHA ladder rules; know when they need to be anchored.
10. Safety Harness
OSHA does not require these on man-lifts. However, the risk of injury is way too steep. Get a good harness that is adjustable, but fits you comfortably. You will not use it often, but when you do, you'll likely be wearing it for a long period of time. Careful of using others that may be worn or dirty. Also, remember to keep yours clean and dry. The harness should be the 'fall-arrest' type with a lanyard. There are many different models depending on the type of work you're doing. For man-lifts, you just need one lanyard with a locking carabineer.
At Summit Engineering, we understand what it takes to get the job done on time and under budget. Having a trusted structural engineering partner that is equipped with the knowledge and the right tools is imperative. Contact us today!